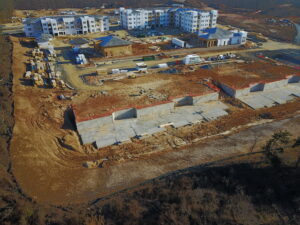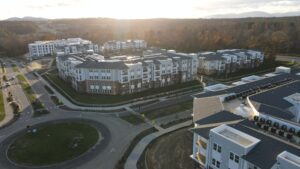 Brookhill
Albemarle County
AG Dillard provided full sitework for the Brookhill Block 4A/B project, a 19 acre site with 9 multifamily apartment buildings.  Tree clearing, civil utility installation, full site grading, concrete flatwork and curbing, and all road stone/asphalt including the Route 29 entrance, were some of the many scopes we managed during our time on site.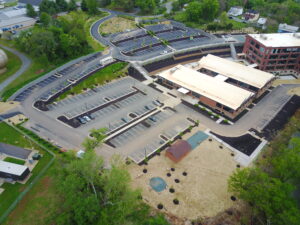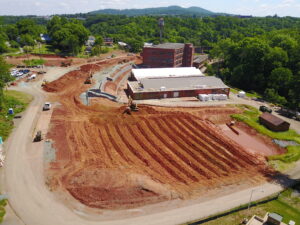 Woolen Mills
Charlottesville
AG Dillard provided the sitework and excavation for the rezoning of the old mill building to a modern mixed-use facility.  Our work on this project included grading, hardscapes, retaining walls, all utilities (many through rocky trenches), and safely working near the Rivanna River and railroad as we brought the site to completion.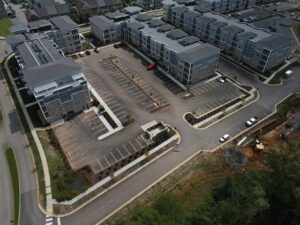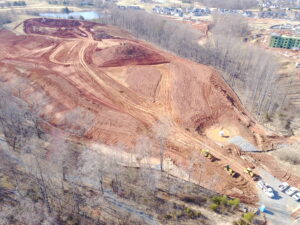 Old Trail
Block 32/The Summit
Crozet
Neighboring sites under two separate general contractors, AG Dillard provided all the earth moving to lay the groundwork for additional residences to be added to Old Trail.  This included moving over 180,000 cy of dirt throughout the project's lifespan.  We also provided all utilities, conduit, concrete work, paving, and pond conversions to both sites.
UVA Athletics Complex
Charlottesville
On a tight deadline, and left with less than ideal starting conditions after the demolition of U-Hall, AG Dillard stepped up to the challenge and transformed the messy demolition site into new practice fields for the UVA football team.  Our work on this site included importing mass stone quantities to fill the large hole left from the footer demolition, concrete duct bank, site utilities, all hardscapes, and grading the site to completion.
UVA Softball
Charlottesville
AG Dillard was responsible for transforming an old practice field into the groundwork for UVA's new softball stadium.  Our work included the removal of mass and trench rock throughout the construction process, installation of an underground detention system, grading the field and surrounding area, all flatwork, and utilities.